Banyan Security Test Drive - Secure Access to Hosted Websites
Overview
All employees require access to corporate websites. Traditionally, access to these corporate websites relies on clunky VPN gateways and fragile VPN clients.
Banyan Security is able to provide secure, least-privileged access to your internally hosted websites without making network changes or tunneling traffic. Organizations can leverage Banyan to cloak their internal sites and enforce Zero Trust policies that take into account both user and device posture.
In this scenario, we'll access the MedSoft-hosted website main page and attempt to access an administrator section of the site. Your Medsoft user only has access to certain sections of the site.
Contents:
---
Before You Begin
For this Test Drive scenario, you will need:
A valid set of MedSoft credentials (Contact your Banyan Account representative)
MacOS or Windows device registered with the Banyan Desktop App
A minimum device TrustScore of 61 or higher

If your TrustScore is 60 or lower, review the in-app remediation instructions
Then, navigate to Settings and click Send Devices Features to update your TrustScore
---
Secure Access to Hosted Websites
Access a Hosted Website
First, let's access the MedSoft-hosted website.
1. Launch the Banyan App from your device Menu Bar (macOS) or Taskbar (Windows), and then navigate to the Services tab and review the available Web Services.
2. Locate the TrialsPlatform hosted website, and then click Open. Your Internet browser launches the trials.medsoft.digital site, which is a standard WordPress site.

Attempt to Access the Admin Section of a Hosted Website
Now, let's try to access the admin section of the site, which requires specific permissions granted in the Banyan Command Center.
3. Click the Administer WordPress link in the header of the MedSoft-hosted site. Access is denied.

Banyan's Zero Trust policies can cordon off sensitive sections of a website so they are only accessible by specifically-authorized users.
---
How It Works
Banyan adds on a modern mandatory access control layer that constantly evaluates the security posture of the device and integrates with your organization's Single Sign On provider. Security policies can then be continuously enforced, locking down access to specific applications and resources based on user and device attributes and trust levels.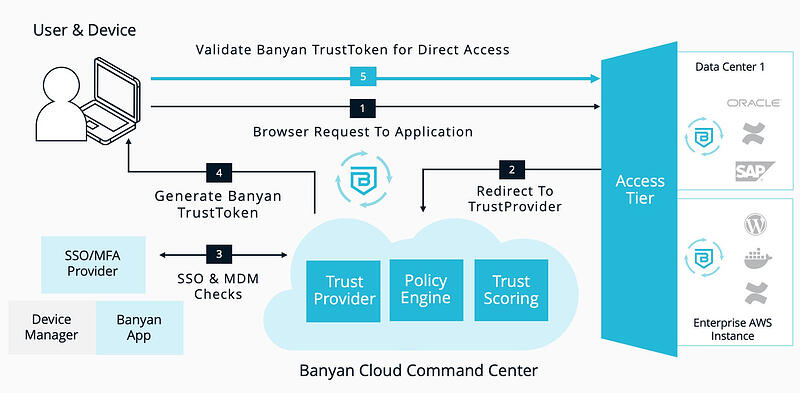 Read more about protecting Hosted Websites in our product docs:
---
Need a bit of assistance?
Watch the video demo of this Test Drive scenario below.
---
Ready to see more? Give another Test Drive scenario a spin!